Fluke or Flounder - Self-Release, 2016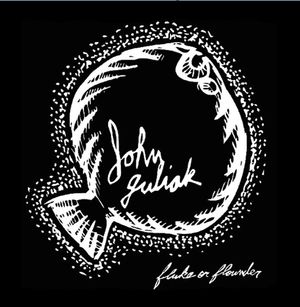 Dust, the first track on this outstanding album, is up there with the best of them. It has, all over it, the care and confidence of an expertly produced record. Here is homage to the dust and rain and the riven days on the Canadian prairies. John's gentle voice centres movingly on the remembered details of small life there "where a girl's eyes were the stars. /No need to look far for the sky". Such understated storytelling, and simply expressed detail abounds in John Guliak's songs. This is his third full-length recording. There have been gaps, including a few years working in Glasgow. Now, he is back in Edmonton, Alberta, at the top of his game.
On Dust, as throughout the album, John is supported by producer, Paul Rigby, who here plays a haunting pedal steel. Another of the standout tracks is the story of Emily, a First Nation, aboriginal Canadian. John presents us with the briefest of details of Emily's life which epitomise the promises made to these indigenous people, quietly, yet piercingly conveyed in the words: "And where's your family? /   Among the dead and wasted/   The hated and raped and tossed aside?" John's understated writing pulls back from providing too much detail. It is upsetting enough to know that in the story there lurks: "a World War", "the only man you loved", and "your children's haunted doorways", which is more than enough to draw you in.
So, listen carefully to this collection. There is much to be involved in, and think about. To dip in, in no particular order, start with Threads. Listen to the introduction, its arrangement; listen to the question, "How could you not see?" Just a love song, yes, but somehow much more than that, with its reference to "sanctified ground", (there's a phrase!) and "dangling by that thread", while the "knocks and creaks" describe the passing of the night. By the fade at the end, your thinking has been affected. John's lyrics are deceptively simple, but contain that extra personal meaning.
Uptempo Triptych leads you in the same way. By using rhyming couplets, you are bounced into relating to "turned the wrong way" and "you know that's a long way". This is clever writing and thoughtful singing. The same applies to Rainy Day Couple a fine duet with Tyler Greentree, in a short song all about getting through it, despite digging that hole! And again, that simple line that reminds you and says it all: "I let you in the way again".
Without any doubt, John has established himself in the modern folk tradition on both sides of the Atlantic. All songs here are written by him, except for two: Richard Thompson's Poor Ditching Boy with its reference to the cold sad winters and the stormy wind; and Kate McGarrigle's song of a journey, Talk to Me Of Mendocino,  with its reference to the western plains. Their inclusion speaks of John's strong membership of this tradition.
This review has only scratched the surface of "Fluke or Flounder" with its great picture of a flounder on the front!  You must bear with it, and buy it.  And hope that John Guliak finds time to come back to the UK and perform here again. Wouldn't miss that for the world, or a flounder for that matter.
Summary
A comeback album by an Alberta troubadour that puts a marker down for his place in folk affinity.
8/10
- Dave Clarke, Americana UK
John Guliak claims to have little talent for sketching anything beyond stick figures but he sure has a way with spinning images in song. Fluke Or Flounder is the third release from this veteran Alberta singer-songwriter, his first in over a decade and a serious set deserving attention from country-folk or Americana fans.
It starts with Guliak's penchant for storytelling, his deft way of capturing depth of character and lonely moods of rural life on the prairies, a boat on the ocean, simple romantic memories, or the haunting experience of an orphaned native girl taken to a residential school. Tie that to hints of nostalgia, hope, anguish or resignation in his voice, reminiscent of early Gordon Lightfoot.
Blazing, stark strumming and the dreamy tonal backdrop of his core backing band with Paul Rigby's guitars, bassist Keith Rose, drummer David MacAnulty, Ford Pier's keys and a few guests bring high relief and real resonance to etch the lyrics in your memory.
4 stars out of 5
- Roger Levesque, Edmonton Journal
A longtime Edmonton roots music fixture, John Guliak returned to the Alberta capital two years ago after living in Scotland for seven years. Once again, he quickly found himself feeling right at home in the city's music community.
"I've often thought about identity," says Guliak. "Where I'm Ukranian-Polish, from northern Saskatchewan, my family really didn't talk about where they were from, it wasn't really encouraged. Then I go to the U.K., and there are people who can trace their line back, in that neighbourhood, in that house, back centuries in some cases. They're just so connected to their heritage, they know who they are."
Those thoughts on identity turn up again and again through Guliak's latest album, Fluke Or Flounder, his first record since 2004's 7 Stories and 13 Songs, with darker takes on life and getting through it, seen through the accrued wisdom of a lifelong traveller of the Canadian Prairies.
"It's something I became aware of, not just living in Glasgow, but travelling through Europe; that I did have an identity, that I was seeing all these places through a prairie perspective," says Guliak, "I've got some definite ideas I'd like to explore, that sense of identity, the connection to landscape, and the culture, even though it's not an old culture, it's still very much a culture here."
The time he spent in the U.K. shows up on Fluke Or Flounder, adding some traditional British folk elements to Guliak's take on darker western alt-country. "I didn't set out to have more of a British feel, but I really like how the British trad style is being expressed, mixing traditional feels with a hip sensibility."
Guliak has been accepted for a five-week artist residency at The Banff Centre throughout October, where he hopes to explore that "world through a prairie lens" even further. "Once you're accepted, they [The Banff Centre] give you the freedom to work, they don't really keep tabs on what you're coming up with, they just give you the space to be inspired and create. I'm really excited to go, and put together some more new music."
- Mike Dunn, Beatroute
7 Stories and 13 Songs - Mint Records, 2004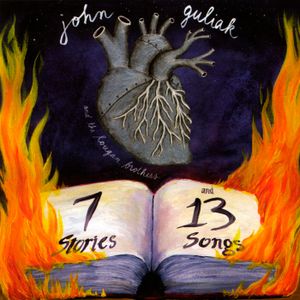 "This is not my story," begins one song on John Guliak's second album, "but it's a good one". The disclaimer could fit nearly every one of the tunes on 7 Stories & 13 Songs, an extraordinary leap in quality from his already quite good debut, 2002's The Black Monk. On this, the former Vancouverite (now living in Edmonton) doesn't make one misstep in his continuing efforts to document the troubles and travels of his working-class heroes. 
Sometimes the barrel-voiced Guliak goes down a dark road, as on the Man in Black twang of the title track. Usually, though, the singer's optimism and faith in people shines through, as with the flirting barflies in "Little Ease" and in the escape-by-rail tune "Rudy Falling". One of the most successful songs on the disc is "Great Western", and you can hear what attracted Guliak to the Ford Pier number in the first lines: "She wore her yellow sweater/She wore her yellow coat/'Cos yellow was the colour/ Mentioned in her horoscope/As being lucky for the day/And they were still her size". And that's another thing to like about Guliak: he's not so egocentric that he insists on filling his discs with his own compositions. 
On 7 Stories, the 13 songs include tracks written by English folk-rocker supreme Richard Thompson ("Shaky Nancy") and classic country tunesmith Fred Rose ("Wreck on the Highway"). Guliak's immaculate taste, his own first-rate melodies and lyrics, and the expert and hearty help he receives from some of Vancouver's and Victoria's finest roots musicians-- including Carolyn Mark and her band--make this record as rich and rewarding as a fine short-story collection. 
By Shawn Conner The Georgia Straight 
www.straight.com/content.cfm?id=6782 
 
The undeniable emotional sincerity that has been invested in 7 Stories and 13 Songs, makes me want to drive to Edson, grab a six- pack of Warthog at the Derrick Liquor Store (the biggest West of Edmonton), and smoke cigarettes with anyone who has the time of day. 
Maybe it's the pull of nostalgia, because the album reminds me of listening to my dad's old Willie Nelson and Roger Whitaker albums while playing "Go Fish" as a kid in Lethbridge. Either way, John Guliak's music is unmistakably Western Canadian. 
As this Edmonton-based country-folk singer celebrates the culture he's come to love, through his quivering, smoky voice, you also get a sense of the years he's spent performing in the Prairies music scene. And by the sound of these thirteen songs, he's made friends with some damned fine musician-types. 
The instrument work supporting his songs is pretty impressive: see the horn part on "High," or the backwards guitar solo on "Easy to Fall." Guliak's melodies are often woven together by an arsenal of an accordion, a mandolin, and of course, a banjo and steel guitar. And although the cadence of Guliak's vocals waivers from time to time, and his languid style can get a little tiring, this collection is worth a listen. If you have a soft spot for good ol' fashioned, soft, country- folk tales of whisky mixing with blood on road trips through the Rocky Mountains, pick up 7 Stories. 
by Ian Munroe www.umbrellamusic.com 
Based on his alignment with Vancouver indie stalwart Mint Records, you might assume that Edmonton-based country singer John Guliak would fall under the alt-country or No Depression or perhaps even the dreaded cowpunk banner. Well, you'd be wrong on all accounts. Guliak plays straight-forward, old fashioned country music and he does it well. 7 Stories and 13 Songs is his new album and it's a strong effort through and through. Guliak's vocals are rich with character and his plainspeak deliveries have a warm familiarity to them. The music is VERY resigned and even when the tempos picks up a touch on tracks like "Windigo" and "Easy to Fail", there's an overall laxed feeling that engulfs 7 Stories...like a blanket or perhaps a duvet. Members of Spirit of the West, Jr. Gone Wild and The Show Business Giants check in from time to time to flesh out Guliak's delivery but you'd be remiss to notice because Guliak's engaging narratives are clearly the focus of the album. Bash my skull with a sledgehammer if you will but I hear an awful lot of Gordon Lightfoot in Guliak's words: highways and birds and all that good stuff. It's about time somebody started singing about those things again. 
by Cameron Gordon 
www.soulshine.ca /reviews/albumReview.php?arid=218 
 
"I've been running out of stories/I've been stealing Tom Waits songs," sings Canadian 
John Guliak on the title track of this thoughtful, funny and rootsy effort. With a voice recalling fel- low countryman Leonard Cohen, Guliak fronts a large folk ensemble as his deep, gravelly tone expresses quiet, rural concerns. "I'll have plenty of time for the day," he sings on "High," and you can see him on the front porch of a cabin believing and living every word. Revealing covers of Richard Thompson (the gem "Shaky Nancy") and Fred Rose show Guliak to be a troubadour with a key understanding of a song's dynamics. Occasionally dark and somber, Guliak is the rare combination of songwriter and singer at home within the song--be that folk, country or a good combination of the two. 
By Darryl Smyers 
music.dallasobserver.com /Issues/2004-12-09/music/hearthere3.html 

The Black Monk - Mint Records, 2001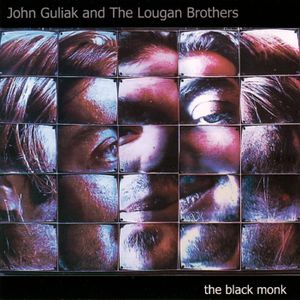 With seemingly no end to the flow of talent from Canada, the Vancouver based singer songwriter is part of the "Prairie Folk Scene" and The Lougan Brothers are a loose collective including the awesomely talented guitarist Tolan McNeil (Carolyn Marks & Her Room-Mates) whose Tele guitar licks easily added a star to our rating. This debut album from Guliak is an equal blend of original material and smart covers of songs from artists as diverse as Uncle Tupelo, Townes Van Zandt and Ralph Stanley. Opening with "Street of Baltimore" (a Harlan Howard classic) Guliak's baritone voice is immediately striking and, whilst its not exactly attractive at first listen, it's at least different and harmonises well with Carolyn Marks and others. Guliak's own songs are, for the best part, of such a quality that they blend seamlessly with the exalted company of Van Zandt's "Loretta" (one of the stand outs) and Uncle Tupelo's "Still Be Around". Lyrically they deal with such matters as the politics of displacement of people to the inner cities, drowning in grief and the usual loved and lost. If that's a bit heavy, the music easily stands on its own, for the most part its straight ahead four-on-the-floor country but with some variety in the form of "Old Slewfoot" a traditional blue- grass number and a cover of "Hey! Hey! Hey" by Carter and Ralph Stanley, both of which suit Guliak's voice very well. Closing too soon with "The Jig" a funky organ driven number, certainly leaves this reviewer wanting more of the same. www3.telus.net/guliak TJF 
www.americana-uk.com/ html/september_2002_reviews.html 
Canadian singer/songwriter John Guliak has moved to Vancouver and teamed up with an all-star group of players from the area's burgeoning 
country music scene to augment his solo career. The Lougan Brothers aren't brothers, and there are no Lougans, but they're terrific interpreters of Guliak's original tunes and some excellent covers of the likes of Tompall Glaser, Wilco and the Stanley Brothers. 
The centerpiece here, though, are Guliak's compositions, which are moody, literate observations of the migration of Canada's population from the rural prairies to the growing cities. It's an old story elsewhere, but it's contemporary in the Provinces, and Guliak himself is an example of the phenomenon, which may contribute to the quality of insight he brings to his subject. He's an expressive if not pure singer and he has an engaging tale to tell. Combined with strong instrumental support, he's made an album that compels us to broaden the concept of Americana to include a broader piece of the continent. 
www.cosmik.com/aa-november02/ reviews/review_john_guliak.html 
Though he has the laconic, comfortable delivery of a Gordon Lightfoot, John Guliak sneaks in a bit of the new under the radar. Covering an Uncle Tupelo track and dipping into the Giant Sand reper- toire, Guliak's external material choices blend in seamlessly with his folky rambling. This is rootsy storytelling in the old fashion sense, with a clear vocal, some pretty harmonies and fine picking to keep things moving. 
Thrust Magazine 
Could be some- thing in the ocean. Or something they're smoking. Not only is John Guliak part of the same B.C. country/folk breeding (inbreeding?) ground that's spawned Carolyn Mark, Neko Case and the New Pornographers, he's also damn good and different enough from the rest of that unruly posse to stand apart, stabbing at his own artistic identity. Although he lacks the wit of Mint labelmate Mark (who sings backup on "Streets of Baltimore" while Room-mate guitarist Tolan McNeil plays guitars throughout The Black Monk), Guliak's strength is his deep, empathic voice and his bare-bones, from- the-streets and from-the-field approach. 
This guy's stories sound honest and tough and true and all those other cowboy clichés that describe a fellow who tells it like it is and then tells you a little bit more, maybe a little more than you wanted to know. Straightahead country, with a touch of pop on "The Jig" at the end of the disc, Guliak's closest emotional kinfolk are probably bands like Winnipeg's Weakerthans; he's got that inner-city/rural split coursing through his chords and characters. With a few covers seamlessly slipped into the mix including "Loretta" by Townes Van Zandt and Uncle Tupelo's "Still Be Around"—The Black Monk is a suitable accompaniment for driving across the prairie or walking through the concrete jungle. Take your pick. 
Dan Rubinstein, Vue Weekly, Edmonton 
John Guliak and the Lougan Brothers The Black Monk (Mint) Experienced prairie country pop man finds new respect in Vancouver scene. Half decent album follows. 7 (LC) 
Montreal Mirror 
The fact that American roots music--traditional country, bluegrass, folk and blues--has become a craze in the wake of the O Brother Where Art Thou? soundtrack doesn't diminish in any way the worth of the music itself. Each Stanley Brothers cover, as long as it's done with an understanding of the original spirit, does nothing but prove again how great the music was in the first place. Half of The Black Monk, the latest CD from Vancouver singer-songwriter John Guliak and a ragtag band of friends called the Lougan Brothers, is devoted to fine, straightforward covers of traditional country and folk tunes. Not all of the songs are old, however; Guliak and pals take the tack of illuminating the bridge between the past and present by covering songs by not only the Stanley Brothers, Townes Van Zandt, the Louvin Brothers and Johnny Cash but also newer acts like Uncle Tupelo and Giant Sand. These songs flow seamlessly together, and sit just as comfortably with six songs written by Guliak himself. Most of his songs have a folk feel to them, excepting the album's closing track, a bluesy rock story-song called "The Jig." Like the covers, Guliak's songs tell heartfelt stories about people and their lives, with an eye toward the way people's stories mesh with those of society. "Oh! Canada," for example, is a lament about the way his country is veering towards greed and selfishness instead of peace and justice. Lamentation is in fact a common thread here, as is a general feeling of dismay, expressed concisely in "Mona," a down-on-my-luck love ballad that is adeptly paired with Townes Van Zandt's classic "Loretta." "Living On Grace," the Guliak ballad that follows that pair, is a gorgeous telling of the journey of life that ends on a poetic note, with a sky spinning with stars. It's a fitting mid- point for an album filled with traveller's songs which capture despair and hopefulness in eager measure, songs that with timeless sentiments, whether they were written five years ago or 50. -- dave heaton 
erasingclouds.com/22oct.html