For those of you who might be wondering why I have not been very active performing music this past month or so, here is a wee story: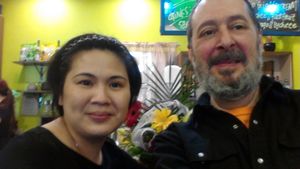 This is a photo of me (looking as goofy as ever) and Rose, who manages Phobulous, one of my favorite places to eat in Edmonton. 
  
Pho, as we know, pronounced Fah, is an addictive Vietnamese soup that I believe has life–giving properties. I first enjoyed Pho at a wee family-owned hole in the wall on Kingsway in Vancouver called, if I recall correctly, Mi Han - I think The Black Lodge might occupy its spot now.  Here my Pho needs were ministered by two beautiful sisters whose presence almost equaled that of soup; either way, I got hooked and since then have tried to consume at least a bowl a week. 

 
When I moved to Glasgow a few years back, I hit a big snag – Pho was nowhere to be found.  There was one placed that tried to make it but the bowls were wee and dear and the broth did not seem to have much love or tradition behind it. Three things I expect from Pho are: one, that it is served in a large bowl, two, that it is reasonably priced, and three, that its broth has character. So, although leaving Glasgow broke my heart, I have found some comfort in the fact that Edmonton has some great places to enjoy Pho.  Myself, I'm a creature of habit and I have settled on Phobulous on 109th across from the Garneau Theatre. I'm there slurping noodles 2 to 3 times a week and this has led directly to me getting my recent bout with cancer addressed early on. 
  
Phobulous is managed by Rose who recognises my patronage by giving me extra treats from the kitchen, by every once in a while insisting that my soup is on the house, and by always stopping by my table to ask how things are going.  One day, about a month and a half ago, I had hardly entered the restaurant when Rose walked straight up to me and asked what was wrong with my neck. I had no idea what she was talking about and replied that there was nothing wrong. She disagreed and insisted that I have my neck looked at by a doctor.  It just so happened that I was on my way to see my GP about a finger injury that I was dealing with so in the course of that appointment I asked the doctor if he could examine my neck.  After a quick look and palpation he assured me that I had nothing to worry about. 
  
A few days later when I returned to Phobulous Rose asked me how I got on; I reported back to her what the doctor said. She found this unsatisfactory and insisted that I have someone else have a look, I agreed to but frankly was not overly concerned. I did not feel anything was wrong with my neck – everything looked to be normal, I had no pain or discomfort, and when I asked friends if they noticed anything, no one definitively could. 
  
Despite my lack of concern, while at another appointment, again in regards to my finger injury, a different doctor was attending me to so I relayed to him the story thus far. After an examination he had me go for an ultrasound, that was quickly followed by a biopsy, and that resulted in a diagnosis of Papillary Thyroid Carcinoma. Within a month of this diagnosis I had a radical neck dissection and total thyroidectomy performed from which I am currently recovering. 
  
My surgeon feels confident that he was able to remove all of the cancer and that I will likely not need further treatment because, as we know, early diagnosis and intervention is essential in the treatment of cancer. Without Rose's insistence that I have my neck looked at, this story could have been very different and everyone including my surgeon is astonished that she even noticed anything in the first place. 
  
Thank you Rose, I will be having the pleasure of your Pho for years to come.