So that's cancer kicked for now – time to get on with it. Since returning to Canada, I have been determined to spend as much time as possible writing, recording, and performing. I've hit a few bumps in the road but my tires are still in pretty good shape – so here I go: 

Performing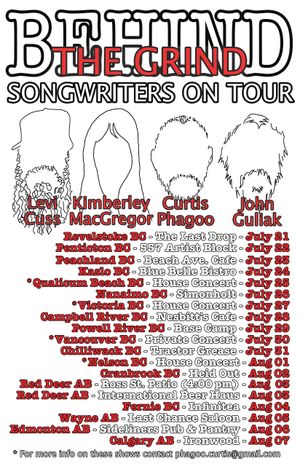 I have just returned from touring and while I've been home for a couple of days now my body and brain still feel like they are speeding through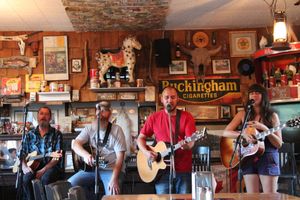 BC's rainforests – I've had a very rewarding 18 days with 20 performances in 18 locations across BC and Alberta on the Behind The Grind Tour Part 2 alongside of Kimberley MacGregor, Curtis Phagoo, and Levi Cuss. I saw many old pals along the way and met some great new folks who are sure to become good friends. It's been a while since I've had a tour like that and, despite a few bumps and bruises and the grueling schedule (drive, perform, sleep, repeat), I'd happily start the whole thing over again tomorrow.  I can't thank enough all the folks who put on shows for us, fed us and shared their homes, and took the time out of their summer to spend an evening or afternoon with us – we had a tremendously successful tour that could not have happened without all these supportive folks and communities. 
  
We sure live in a beautiful part of the world – a place I have often taken for granted - but I've gained a new perspective since living in Scotland for 7 years and having the opportunity to see much of Europe and the Mediterranean. I am a pretty social person (talks a lot) and whenever I would chat with local folks and other tourists about how beautiful the locales we happened to be in were, all they wanted to talk about was Canada. 
  
To many people around the world Canada's wilderness is the most exotic place they can imagine. I have been very lucky to experience some of this wilderness; most significantly when my old pal Ben Mikuska guided me on a canoe and portage trip up into northeastern Manitoba where we ended up in places where there was almost no possibility of running into another human or any sign of civilization for that matter. If you look at a map of northeastern Manitoba and northwestern Ontario you will get an idea of the wilderness that exists there – so many lakes, rivers, and islands that they go mostly unnamed. I stood on pieces of land that I might have been the only person – past, present, and future – to ever occupy – places where I could almost talk the trout out of the water and into my fry pan. 
  
I have also been lucky to take extended boat trips along BC's Sunshine Coast where your own private paradise awaits in countless hidden coves filled with enough prawns, oysters, and clams to satisfy even my gluttony for those critters. Then there's the prairies – the vastness where you can watch your dog run away for 5 days - the sky a shade of blue I've never witnessed elsewhere - the wellspring of loneliness that rises in the ever distant horizon - driving over soft, rolling hills that move slow beneath me like the body of a lover. 
  
My recent travels through BC's interior and coast and Vancouver Island and out to Drumheller's Badlands have been a brilliant reminder of how beautiful and varied this country is – I did not take a moment of my travels for granted. Neither did I take for granted the opportunity to spend every day doing what I love more than anything. Getting to share this experience with Kimberley, Levi, and Curtis only enhanced my enjoyment – each of these performers brought so much to this tour and I got lost in their performances as often as I did my own. 
  
  
Writing 
  
I am really excited to return to The Banff Centre For Arts and Creativity this Fall to attend a 5 week Residency where I will be given the space and support of my peers to focus solely on writing. Last year I only spent 2 weeks at the Centre and this was one of the most rewarding experiences of my career – I highly recommend that anyone who reads this and is engaged in creative work in music, literature, and visual arts take a look at what the Centre has to offer. 
  
Recording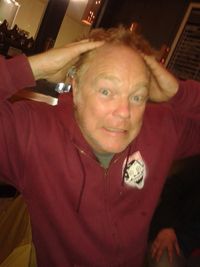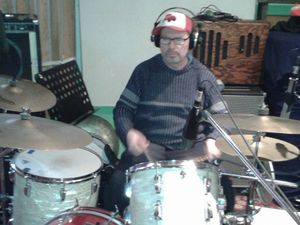 After nearly a yearlong delay, I am finally ready to announce the release of my third full-length recording entitled Fluke Or Flounder on September 23rd, 2016.  I am
really proud of this record and for several years was uncertain whether I would ever record the material on it. The first thing I did when I moved back to Canada was give my old friend Paul Rigby a call to see if would like to produce a record for me – not only did he agree to, but he also brought John Raham at Afterlife Studios and David Carswell of JC/DC Studio to provide the spaces and expertise to record my work. 

Next, I called upon my old friends to help me flesh out the songs and was lucky to have my old rhythm section, the original Lougan Brothers, made up of Keith Rose and David MacAnulty come on board. Tyler Greentree agreed to come do some singing with me, and I was lucky to have Ford Pier and Shuyler Jansen to add some bells and whistles. Paul Rigby not only produced but also played all manner of instruments and has created a really beautiful atmosphere – I am very lucky to have had so many talented folks contribute to the recording of this record. 
  
Once all the recording was done I got Marc L'Esperance at Heavy-o-sonic to do the mastering – Marc mastered my first two recordings and I knew I could count on him. For the artwork, I sat and chatted with Bob Yianakoulias about all the ideas and inspirations that went into writing the songs on this record and from that discussion Bob created a series of what he called icons, some of which you will see on the home page of this website. Finally, Travis Sargent has done a ton of gratis work with the graphic layout. 
  
  
Big thanks to everyone who helped out with this project – I am excited to share it with you this September. WATCH THIS SPACE.